Stuffed Tomatoes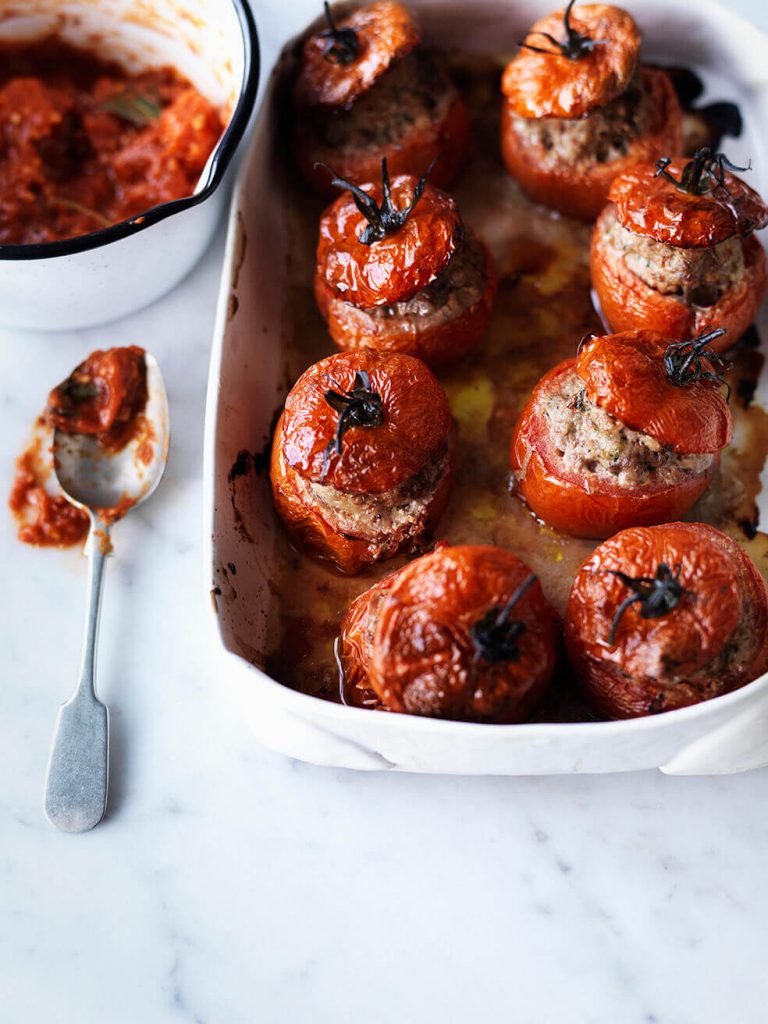 Serves: 4-6
Time: 1 ½ hours
Ingredients
8 large ripe tomatoes
500g minced pork
200g minced beef
1 French, finely chopped
1 clove garlic, minced
3 sprigs of parsley, finely chopped
1 egg
2 tbs. olive oil
15g butter
Salt and pepper
Sauce
10g butter
1 clove garlic, finely chopped
1 x 400g crushed tomatoes
Bouquet garni (1 bay leaf, 2 sprigs of parsley, 2 sprigs thyme)
Method
Preheat oven at 180°C.
Remove the tops off the tomatoes and with a spoon carefully spoon out the flesh ensuring not to pierce the skin. Keep the tops. Reserve the scooped-out flesh.
In a bowl, mix the meats with the shallot, garlic, egg, parsley and a good pinch of salt and pepper. Mix until all the ingredients are well combined.
Fill each tomato with the meat mixture and place the tomato tops on each (like a hat). Place in a baking dish, drizzle with a 1 tablespoon of oil and bake for 45-50 minutes.
For the tomato sauce, heat remaining oil to a saucepan and gently cooked to garlic. Add the reserved tomato flesh and canned tomato. Season with salt and pepper and add the bouquet garni. Once brought to the boil, turn down to a low heat and cook slowly for 30-35 minute. Add butter and blend with a stick blender.
Serve stuffed tomatoes with a sauce and steamed rice on the side.