Soba Noodle Salad with Miso Dressing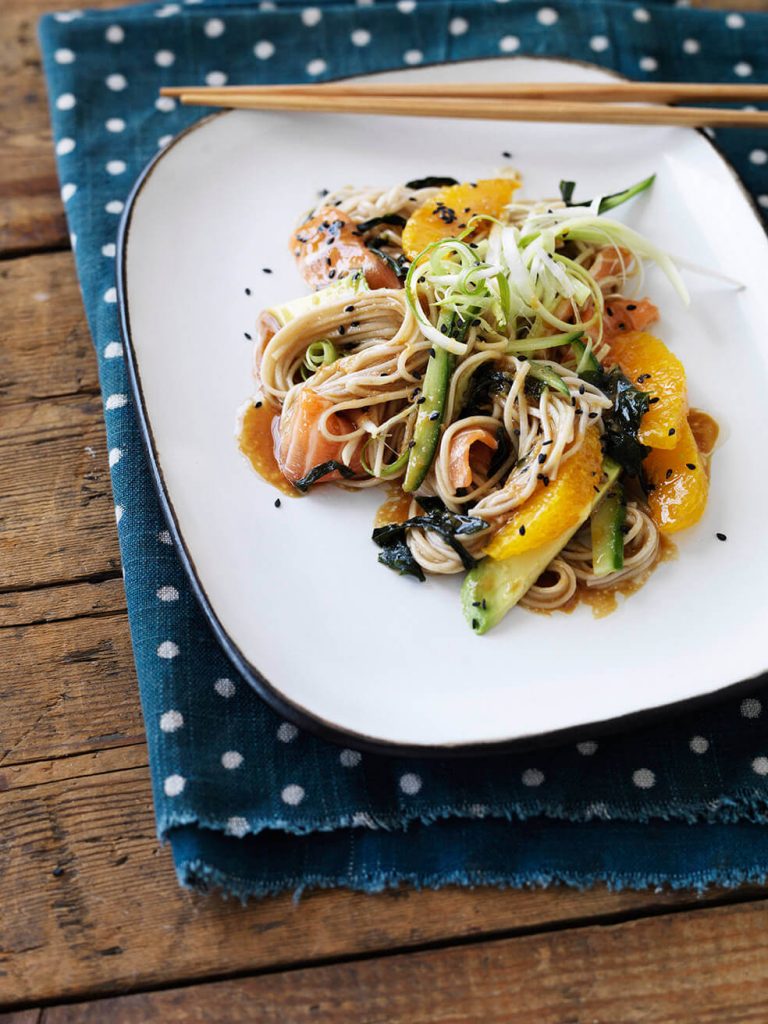 Serves: 4–6
Prep: 45 minutes
Cooking: 5-8 minutes
Ingredients
300 g sashimi-grade salmon
200 g soba noodles
1 avocado, sliced
1 orange, segmented
1 Lebanese cucumber, halved lengthways, seeds removed, julienned
4 spring onions, finely sliced
3 strips of dried wakame, soaked for 10 minutes (optional)
1 1/2 tablespoons black or white sesame seeds
Dressing
1 tablespoon white miso paste
2 tablespoons rice wine vinegar
1/2 teaspoon sugar
1 teaspoon freshly grated ginger
2 tablespoons soy sauce
1 teaspoon sesame oil
3 tablespoons vegetable oil or grapeseed oil
Method
Cut the salmon into thin slices with a sharp knife.
For the dressing, whisk all the ingredients together in a small bowl.
Cook the soba noodles as per the packet instructions, strain and cool under a tap of running cold water.
Combine the noodles with the salmon, avocado, orange segments, cucumber and spring onion in a large bowl. If using the wakame, drain, roughly chop and add to the salad. Pour over the dressing and toss well. Arrange the salad on a platter and sprinkle with the sesame seeds.