Slow Cooked pork Shoulder with Crackling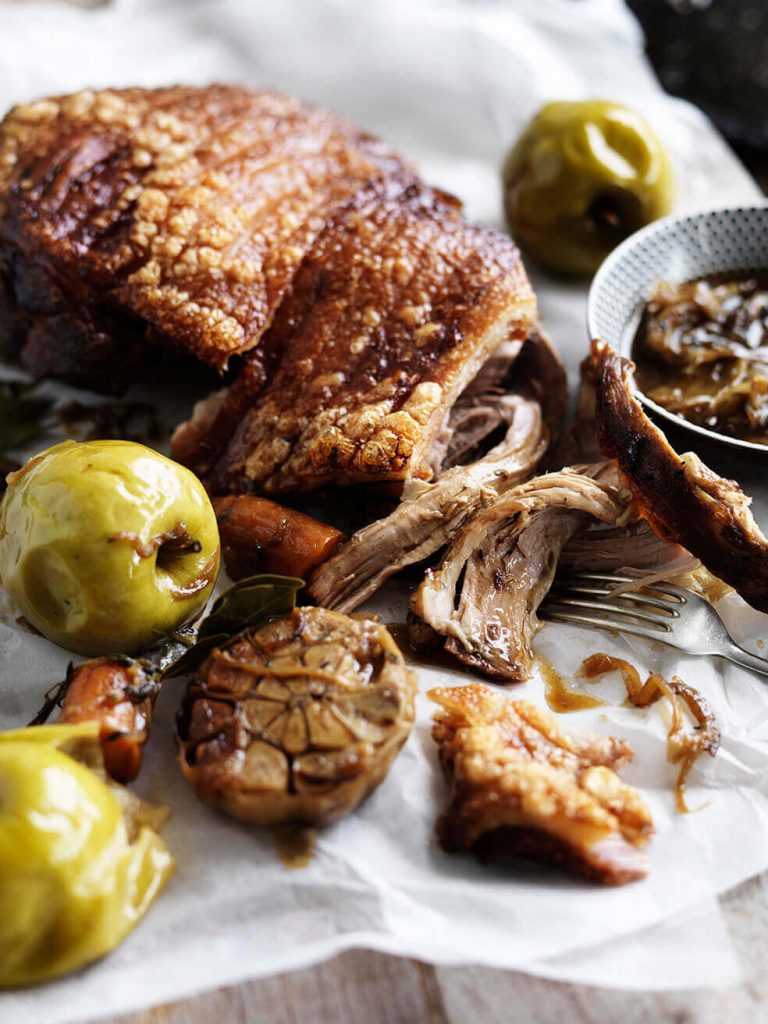 Serves: 6-8
Cook: 4 hours
Ingredients
1 tbs. vegetable oil
2.5-3kg pork shoulder, bone-in, skin on and scored (I get my butcher to do this), ideally air dried the night before cooking
1 heaped teaspoon of caraway seeds
1 heaped teaspoon of fennel seeds
1 large onion, sliced
1 fennel, sliced
1 head of garlic, not peeled and cut in half lengthways
1 carrot, cut in 4
2 bay leaves
4 sprigs of thyme
330ml bottle of apple cider (I prefer dry but sweet can be used too)
500ml chicken stock
Salt flakes and pepper
4 small granny smith apples, pierced 4 times all over
Method
Bring the pork out of the fridge at least one hour before cooking. Pre heat the oven to 220C. Drizzle with the oil all over and season with a generous amount of salt. Turn the pork over, skin side down and rub the spice all over the flesh. Do not sprinkle on skin.
Place the chopped vegetables in a large deep roasting tray that is also suitable to be put on the stove top (approx. 4-5L capacity). Drizzle with a little oil and season with a pinch of salt and pepper. Place the pork on top of the vegetables (tucking most of the vegetables under the meat), skin side up and roast in the oven for 30-40 minutes or until the skin is golden in colour, has blistered and is slightly crunchy. Remove from the oven and turn the heat down to 165C. Add cider in and around the pork followed by the stock, ensuring it does not touch the skin. The aim is to cover not all, but most of the flesh with liquid. If you need a little more liquid, water is fine. Very loosely cover the pork with foil (like a tent) and cook for 3 1/2-4 hours or until the pork pulls easily apart with tongs. 40 minutes before the end of cooking, place the whole apples into the liquid to cook.
Once cooked remove the pork from the oven and carefully transfer to a chopping board along with the apples. Remove the thyme and the bay leaves, leaving the vegetables in the liquid and bring to the boil. Reduce by half, skimming off excess fat with a ladle.
Remove the crackling and scrape off soft fat from the underside. Pull the meat apart and place on a large platter with the crackling broken apart and apples. Pour the pork jus and soft vegetables into a bowl to serve on the side.