Quiche Lorraine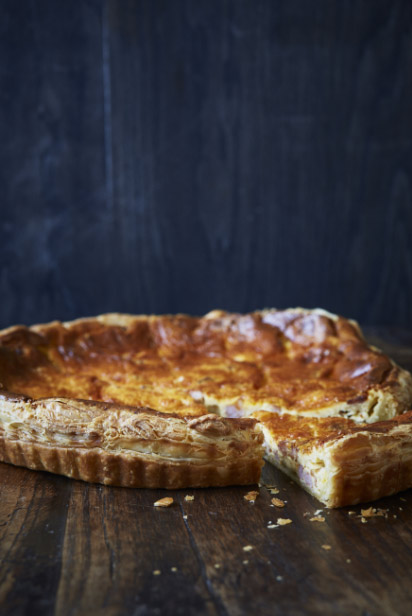 Serves: 6
Cook: 40 minutes
Ingredients
375 g good-quality frozen puff pastry, thawed (see Note)
250 g smoked speck, rind removed and cut into 1 cm cubes or bacon
5 eggs
1⁄4 teaspoon nutmeg
300ml thickened cream
50 g Cheddar or Gruyere cheese
Salt and pepper
Method
Preheat the oven to 190°C. Lightly grease a 26 cm loose-bottomed tart tin.
Roll out the pastry to form a disc about 3 mm thick. Line the prepared tin with the pastry, trim the excess pastry, then prick the base 10 times with a fork. Place the tin on a tray and transfer to the fridge to chill while preparing the filling.
Heat a frying pan over medium heat. Fry the speck for 5 minutes until golden and all the fat has rendered. Drain on paper towel.
Whisk the eggs, pepper and nutmeg together in a bowl. Add the cream and mix until smooth.
Remove the pastry case from the fridge, scatter on the speck and cheese and then pour over the cream mixture. Bake for 35 minutes on the lowest shelf of the oven (this ensures the bottom of the quiche is well cooked) until the quiche is golden all over and the centre is just set with a slight wobble. Cool for 15–20 minutes before removing from the tin to serve.
NOTES:
I use Carême puff pastry for this recipe. You can find it in specialty stores, delis and good supermarkets. Alternatively, use the square sheets of puff pastry commonly sold in supermarkets. You will require 1 1⁄2 sheets. Ensure you use a fork to seal the seam when you patch the two pieces of pastry together.