Potato Salad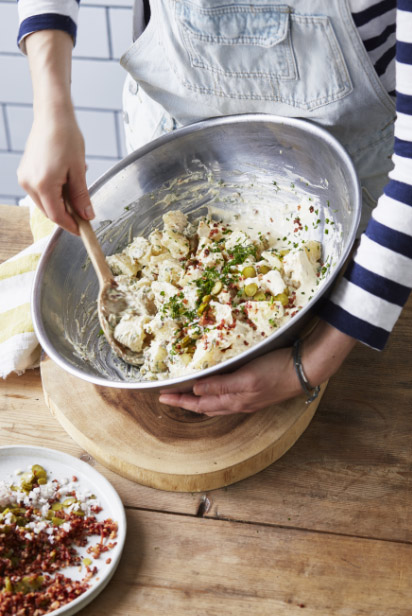 Serves: 6
Cook: 25 minutes
Ingredients
1.2kg Desiree or kipfler, do not peel but wash
3/4 cup good quality store-bought whole egg mayonnaise
100g sour cream
1 tbs. Dijon mustard
1 tsp. red wine vinegar
zest of 1 lemon
Pinch of cayenne pepper
2 French shallots, finely chopped
12 cornichon pickles, chopped into rounds
1 large handful of parsley, finely chopped
1 bunch of chives, finely chopped
3 sprigs of dill, finely chopped
250g bacon, finely chopped
Salt and pepper
Method
Wash the potatoes and place in a large pot of cold salted water. Bring to the boil and then turn down to a medium heat and cook potatoes for 20 minutes or until tender. Cooking time will vary depending on what potatoes you use and how large they are.
While the potatoes are cooking, combine the mayonnaise with the cream, mustard, vinegar, zest and cayenne. Add the shallots, gherkins and herbs, reserving a small handful of mixed herbs to garnish. Place the bacon in a large pan (no oil required) and slowly bring the heat up. This will ensure the bacon bits will become very crispy. Once sizzling continually toss until golden and crunchy. Drain on paper towel.
Drain and cool the potatoes enough to handle. While still warm peel the skins off and cut into 8 even cubes. Add to the dressing, along with half of the bacon. Toss very well so all the potatoes are coated. Garnish with reserved herbs and bacon.