Harissa Carrots with Hummus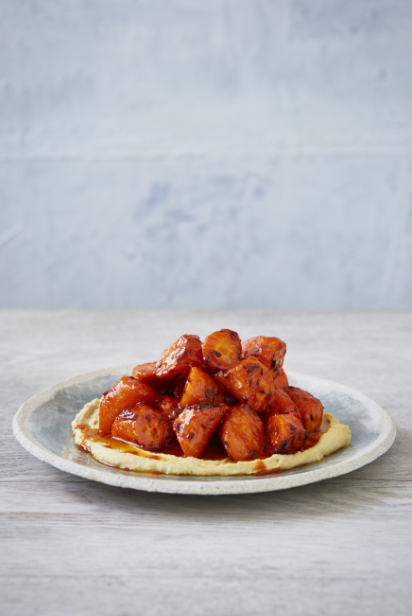 Serves: 4
Cook: 30 minutes
Ingredients
4 large carrots, peeled and cut in 4cm round chunks on an angle
1/2 tsp. cumin seeds
2 tbs. harissa
1 1/2 cloves garlic, finely grated
1 1/2 tsp. honey
120ml extra virgin olive oil + an extra 60 ml
1 1/2 tbs. lemon juice
1 x 400g can of chickpeas, drained and rinsed
2 tbs. tahini
¼ cup water
Salt
Method
Pre heat the oven to 200C. Place the carrots into a baking tray and drizzle over 1 tablespoon of oil, pinch of salt and the cumin seeds. Toss together and then spread out into one even layer. Bake in the oven for 25-30 minutes or until just tender, tossing once or twice throughout the cooking process.
In the meantime, make the dressing by whisking together the harissa, one clove of garlic that has been finely minced, honey, 1/2 a tablespoon of lemon juice, 40ml of olive oil and a pinch of salt.
To make the hummus, add the drained chickpeas to a food processor and pulse to form a crumb. Now add the tahini, remaining garlic that has been minced, lemon juice, a good pinch of salt and the remaining 60ml of oil. Begin to blitz again and then slowly drizzle in the water. Blitz for 30 seconds to 1 minute or until the hummus is very smooth and pale. Check seasoning, it may need a little extra salt or lemon juice.
Once the carrots are cooked, place them immediately in the harissa dressing and toss until well coated. Spread the hummus in to a shallow platter top with the carrots and drizzle over any extra dressing.