Chicken and Mushroom Cottage Pie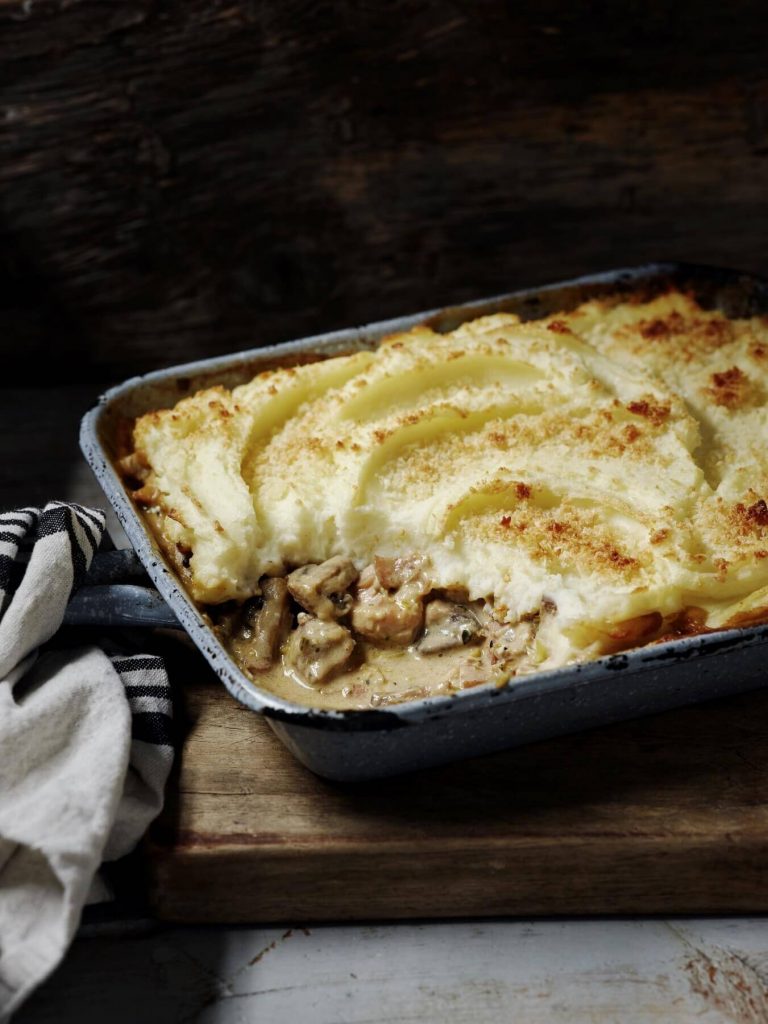 Ingredients
2 tablespoons olive oil, plus extra for drizzling
800g skinless and boneless chicken thighs, each cut into 4
1 leek, white and pale green part only, finely chopped
160g speck or streaky bacon, cut into lardons
350g button mushrooms, cut into quarters
3 thyme sprigs, leaves picked
200 ml white wine
1 tablespoon of dijon mustard
pinch of cayenne pepper
250 ml chicken stock
150g crème fraiche or sour cream
20g parmesan cheese, grated
1 tablespoon panko breadcrumbs
6 sebago or desiree potatoes (1 kg), peeled and quartered
50g butter
125 ml hot milk
salt and pepper
Method
To make the mash, place the potato in a saucepan, cover with cold water and add a pinch of salt. Bring to the boil and cook for 20 minutes until the potato is soft. Drain in a colander and allow the steam to dissipate. Return the potato to the pan and mash, and then add the butter. Keep mashing until the butter has melted into the potato, and then pour in the hot milk. Whip the milk through with a wooden spoon until a smooth thick mash forms. Check the seasoning and add a pinch of pepper. Cover with the lid and reserve for later.
Heat 1 tablespoon of oil in a large sauté́ pan over high heat. Add the chicken, season with salt and pepper and cook for 4–5 minutes until lightly coloured. Remove from the pan and set aside. Add the remaining oil, the leek and speck or bacon to the pan and sauté́ for 3–4 minutes over medium heat. Stir in the mushrooms and thyme and cook for a further 3–4 minutes until they are softened.
Preheat the oven to 200°C.
Return the chicken and any juices on the plate to the pan. Stir well and deglaze the pan with the wine. Bring to the boil, mix in the mustard, then add the cayenne and stock. Turn down the heat to low and simmer for 10 minutes until reduced by one-third. Mix through the crème fraiche or sour cream and cook for 3–4 minutes until thick enough to coat the back of a spoon.
Pour the chicken stew into a 2 litre baking dish and spread out evenly. Dollop the mash over the top and, with the back of a spoon or a fork, spread to completely cover. Sprinkle over the cheese and breadcrumbs and drizzle with a little extra olive oil. Place the dish on a baking tray and transfer to the oven. Bake for 25–30 minutes until golden on top.